For April 2009
you will found

" Magic moments in Khmer heritage "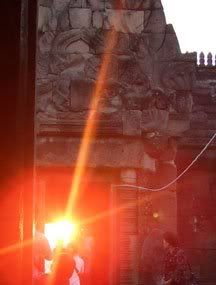 A splash of sunlight penetrating an ancient temple cloister signals a distinctive celebration at Prasat Phanom Rung (Buriram Province ). Knowing the exact moment to witness a spectacular sunrise through the doorway of an ancient Hindu temple requires a detailed calculation.
Actually, the sun rays pass straight through 15 perfectly aligned doorways of Prasat Phanom Rung, a revered and ancient Hindu monastery, just four times a year -– two sets of sunrises, in April and September, and two sets of sunsets, in March and October.These spectacular solar-related events, that also bear religious significance in the Hindu faithful, span just three days –- 2, 3 and 4 April. The second day is considered the most auspicious as the sun is visible dead centre of the outer doorway of this Khmer Hindu temple. Sun rays cast light through 15 aligned doorways that span 75 metres of the temple's inner courtyard illuminating a revered lingam deep in the main sanctuary. On the other two days, the sun passes one of the corners of these doorways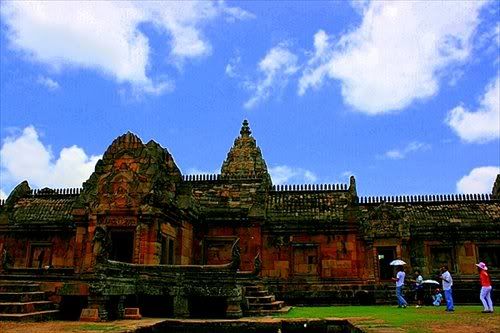 Located about 120 km east of Nakhon Ratchasima, the gateway to the northeast region, Prasat Phanom Rung presents a picturesque setting high above the surrounding countryside. A series of steps lead to this ancient monument that stands on the peak of an extinct volcano offering panoramic views of rice fields and hazy mountains on the border with Cambodia.
While photographers will not want to miss the opportunity to capture the 3 April sunrise perfectly aligned within the lintels of the doorways, most visitors will settle for the evening festivals and a colourful light and sound show organised by the Tourism Authority of Thailand performing nightly from 2 to 4 April.
Officially known as the "Ascent of the Mountain Annual Festival" or the "Festival Of The Thousand Year Miracle of the Phanom Rung Grand Shrine" the celebrations start with the religious significance of the sunrises, but continue with community festivities on each of the three days, well into the night.
The 80-minute light and sound show, that start at 20:00, highlights the history of Prasat Phanom Rung and explains the significance of the sunrise and its alignment with the temple's courtyard doors. The show is described as an "extravagant outdoor Son et Lumiere performances led by a large cast of actors, dancers and acrobats."This evening spectacular, held within the temple complex, compliments the daytime activities that start with the sunrise ceremonies and are followed by colourful festivities throughout the day. In the afternoon there is almost a carnival spirit as visitors enjoy the local food specialities sold at stalls, the folk music and dances as well as handicraft displays. Many visitors are tempted to stay on to admire the floodlight sanctuary, or slumber through night under the stars to ensure they have a prime spot to participate in the sunrise ceremonies on the following morning.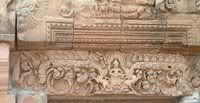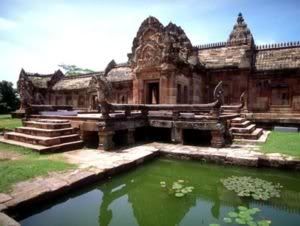 credit by Tourism Thailand